This article is part of my research on My Fathers Before Me.  David Senecal was the first generation Senekal in South Africa, in a line of Senekals of which I am the tenth.
I will update this article as more information becomes available, so please check back from time to time.  Last updated:  18 February 2010.
David Sénécal was a French Huguenot who came to South Africa in 1688.  He was the only person with the surname Sénécal (modern-day Senekal) to come to South Africa, and can thus rightfully be assumed to be the forefather ("stamvader") of all Senekals living in South Africa today.
David was born in 1667.  His place of origin is given as Dieppe, Normandie in France.  Not much is known about his life in France, but by 1688 he made his way to Middelburg in the Netherlands.  He was a French Huguenot ("Franse Hugenoot") and fled from persecution in his home country.
I don't want to talk too much about the French Huguenots (rather read the Wikipedia Article or The SA Huguenot Story), but just very briefly, the French Huguenots were members of the Protestant Reformed Church of France (French Protestants or Calvinists).  They were opposed to some of the views held by the Roman Catholic Church, something which led to bitter wars and persecution.  A large group fled the country and settled in many different parts of the world, including South Africa.
The Huguenots that came to South Africa came via the Netherlands.  At the time, the Netherlands, under the Dutch East India Company (DEIC) (or the Vereenigde Oost-Indische Compagnie (VOC) as it was known in Dutch), set up a refreshment station at the Cape of Good Hope, to supply ships passing between Europe and India with fresh supplies.  The DEIC was looking to grow the colony in the Cape in order to sustain its supply of fresh food, and provided and opportunity for the Huguenots to come to the country.  The DEIC would bring the Huguenots to South Africa on board their ships, in exchange for staying in the country for at least 5 years and applying their skills in the colony.  The bulk of the Huguenots came to South Africa in the period 1688-1689 (about 20 arrived earlier in the period 1671 – 1688).  The ships included (in order of arrival) the Voorschooten, Borssenburg, Oosterland, De Schelde, Berg China, Zuid Beveland, 't Wapen van Alkmaar, Zion, Spierdijk, Agatha, Vosmaer, Driebergen, Cattendijk, Westhoven, Donkervliet, Reijgersdaal and Helmeet.  The journeys by sea took about 4 to 6 months.  It was extremely treacherous conditions, not only due to the pitfalls of the sea, but also due to the lack of fresh fruit and vegetables, causing scurvy.  Some also fell victim to pirates or were attacked by French ships.  Many lost their lives at sea.
And so the story really begins with David boarding the Zuid Beveland on 22 April 1688 in Middelburg, Netherlands.  The ship was 130 feet long and carried 175 passengers of which 25 were Huguenots.  The journey took 4 months and they arrived at Table Bay on 19 August 1688.  Disaster struck when a small boat that brought some of the passengers to land was capsized by a strong wind, killing many of those it was carrying.  Of the 25 French Refugees that boarded the ship, only 13 made it to the Cape alive.  Their names are Salomon De Gournay, Charles Le Long, David Sénécal, Abraham Vivier, Pierre Vivier, Jacques Vivier, Louis de Bérault, Estienne Viret, Daniel des Ruelles, Esther de Ruelles, Anne de Ruelles, Rev. Pierre Simond and Anne de Bérault (the names of those who passed away on their journey is unfortunately unknown)  There was some excitement about the arrival of Reverent Pierre Simond and his wife Anne de Bérault, he was the first French reverent to arrive in the Cape, and being very religious, the French Huguenots must have been looking forward to his arrival.
What fascinates me about the story, is what it must have felt like for the young David to come to South Africa.  He was perhaps 20 or 21 at the time, and must have left all his living family (were his parents and siblings killed in France perhaps?) and most earthly possessions behind to come to an unknown country.  He must have known about the dangers of coming to South Africa by ship and must have been uncertain about what awaits him in the foreign country, from where he probably will never return to his home country.  What was the journey by sea like, and were some of his relatives perhaps those that drowned in the small boat that capsized?  Was he perhaps in the small boat and had to swim to the safely of the shore?  Was he great friends with some of the others on the ship?  How was he going to sustain himself?
David married Anna Madelaine Du Puys (1671-31 May 1761) in 1694 in the Cape of Good Hope.  Anna and her sister Suzanna Du Puys (1684-?), came to South Africa in 1693 sailing from Amsterdam in Holland.  The sisters came from Paris (Ile-de-France) and were the children of Jean Du Puys (circa 1644-1686) (from Dieppe, Normandie) and Anne Martin (?-1712) (from Dieppe, Normandie or Calais, Picardie).  Anne Martin came to South Africa as a widow in 1692 and later married Salomon de Gournay (Salomon was also a passenger of the Zuid Beveland) in 1693.  (It seems that the Du Puys ladies were keen on getting married after their arrival in South Africa…)
Suzanne Du Puys married Estienne Bruére on 19 February 1702.  The Du Puys surname no long exist in South Africa, but the two Du Puys sisters were the progenitors of the Senekal (Anna) and Bruwer (Suzanne) families currently living in South Africa.
Below are the signatures of some of the people mentioned:  David Senecal (no. 16), Estienne Bruere (no. 11), Salomon de Gournay (no. 19) and Reverent Pierre Simond (no. 26).  Click on the image to enlarge.  (I still need to determine exactly why this set of signatures exist – it probably has something to do with signing documents relating to the DEIC.  Image taken from "The French Refugees at the Cape", 2nd ed. by Colin Graham Botha (1921))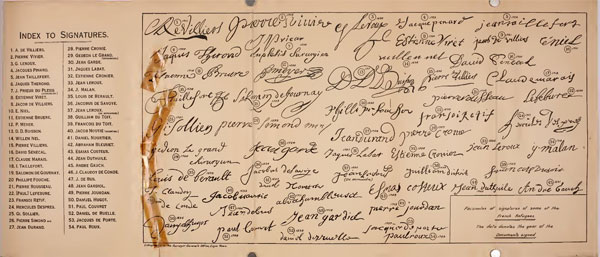 And so the 27-year-old David found himself a 23-year-old wife.   A year later, on 3 October 1695, their first child was born, named David after his father.
David and Anna had 12 children – 8 boys and 4 daughters.  They were David (3 Oct 1695 – 1769 or 28 Mar 1773), Salomon (1697 – ?), Jean (1699 – 13 Dec 1768), Anna Magdalena (1701 – Jan 1790), Susanna (1707 – 1738), Samuel (1709 – ?), Elisabeth (1712 – May 1781), Izaac (1714 – ?), Daniël (Mar 1716 – ?), Magdalena (or Madeleine) (1718 – 29 Oct 1804), Petrus (1721 – 10 Apr 1760) and Jessaia (1724 – ?).  5 of the boys died at a young age and two of the boys died without ever marrying.  The oldest son, David, was the only one who had children and carried the Senekal name forward.  In total, David and Anna had 26 grandchildren, which was apparently quite a small number for people of that era.
David and Anna lived on the farm "De Hartenbeests Kraal" in Klein Drakenstein (when exactly they started living there is uncertain, it could be in 1694, although it seems that the farm was awarded to David in 1692).  In 1695 they moved to the farm "Salomons Vallei" in the Paarl (this farm was neighbouring De Hartenbeest Kraal).  (This farm was awarded to Salomon de Gournay (the husband of Anna's mother) in 1692 and it seems that David and Salomon swapped farms in 1695).
My personal theory is that David knew Salomon well (having both come to South Africa on the Zuid Beveland).  They were awarded farms next to each other.  Salomon married Anne in 1693 and Anne's daughters Anna and Suzanna came to South Africa in 1693 as well, probably living with Salomon and Anne.  I believe it very likely that Anna was thus "the neighbour's daughter" and that David started courting her, eventually leading to their marriage in 1694.
David died on 16 July 1746 at the age of 79.