I recently became interested in genealogy.  I guess having been on the planet for 30 years, one start to think about your place in it and what your legacy will be.  And your only true legacy is through your children, and I am honoured to have a beautiful young boy, little Erik, who will carry my legacy forward.
But one also have to take a step backward and think about those who came before you.  I am blessed to have had a great father, who taught me many great principles – he always showed compassion for others, treated people with respect and dignity, freely gave his trust and money to those in need.  He was an extremely hard worker, with an eye for detail, motivated and responsible.  He was a calm observer, someone who didn't just babble along with others, but would rather listen and carefully observe.  He always upheld very high standards and I am grateful that he made me the man that I am today.
My father passed away just a few months before little Erik was born.  In a sad twist of history, my grandfather also passed away just before I was born.  And in my genealogical research, I found that this has happened a couple of times in my Senekal family tree.  But it had me thinking – I didn't know much about my grandfather – and I am sure he was a great person too.  So in due course, I will tell my little boy about his grandfather and the beautiful example he set.  Although having a grandfather can never be replaced, I hope capturing some of the stories about my father and telling them to Erik can give him some sense of the great man that he was.
In the same vein I would like to capture some stories about all the fathers before me, and I will tell their stories in the months and years to come.
For now I have started just on the Senekal fathers before me, but I will try and get more detail about my other family lines too.  So here is the list of fathers before me:
David SENECAL (1667 – 1746)
David SENECAL (3 October 1695 – 1769)
David SENEKAL (1733 – Before 1798)
Frederik Petrus SENEKAL (1786 – ?)
Frederik Petrus SENEKAL (Com.-General) (15 December 1815 – 21 February 1866)
Frederik Petrus Jacobus (or Johannes) SENEKAL (18 February 1844 – 12 June 1935)
Zacharias Johannes SENEKAL (July 1879 – 18 March 1928)
Frederick Petrus SENEKAL (? – 1979)
Frederick Petrus SENEKAL (Fred – my father) (21 July 1943 – 9 June 2008)
Frederick Petrus SENEKAL (Fred – me) (7 February 1980)
Frederick Petrus SENEKAL (Erik – my son) (19 August 2008)
I am no. 10 on the list, and Erik is no. 11.  Click on the image below to enlarge.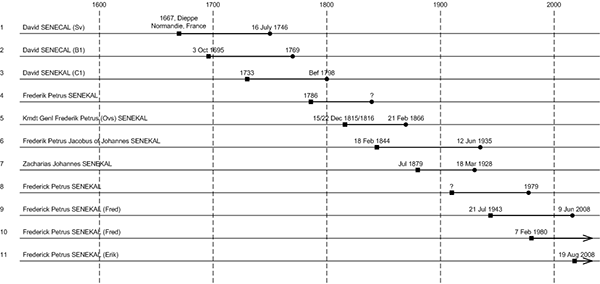 I found a great amount of detail on the Senekal Family website.  In fact all the detail from no. 1 to no. 7 in the list came from the website.  The research was done my Adélle Jerling (previously Senekal) and she did an absolutely spendid job, having traced thousands of decendents of David Senecal, the first Senekal in South Africa ("die stamvader").
Although I will blog about each individual, I will just briefly give a taster:
David Sénécal (no. 1 on the list) was born in 1667 in Dieppe, Normandie, France.  He came to South Africa in 1688 as part of the French Huguenots (Franse Hugenote), on a ship called the Zuid-Beveland.  Read more about the Huguenot Story.  He was the only person by the surname Sénécal to come to South Africa, and the forefather of just about all Senekals in the country.  It is interesting to note that by the third generation, the original "Sénécal" spelling gave way to become "Senekal", obviously a Dutch influence, which is the spelling as is used today.
Another interesting person (no. 5 on the list) is Commandant General Frederik Petrus Senekal.  He is quite a famous person in South African history, and led many Vrystaters during various wars.  The town Senekal in the Free State was named after him in 1877.  I would dearly love to visit this place one day, especially since it is in honour of one of my direct forefathers, carrying the same name as me.  Read more about Commandant General Frederik Petrus Senekal.
Somewhere in the eight generation, the spelling of "Frederik" also changed to "Frederick".  Why was this the case, or was it perhaps just a spelling mistake?  Who was the original Frederik after whom the fourth generation person was named after?  Where did these people live and what was their day-to-day life like?  There are so many interesting questions, and I am on a mission to find out.
Hopefully, by learning more about those before me, I will also learn a bit more about myself…